Thrifty Car Rental Beauvais Airport (BVA)
Thrifty at Beauvais Airport
Car rental partner Thrifty offers car rental services for all passengers visiting Beauvais Airport (BVA). Our recommendation is to book your car in advance, as rates online are better than directly renting a car at the Airport. Check our search engine to find the best price for your car rental at Beauvais Airport (BVA)!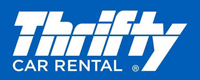 The Rental Car Center
Contact
+33 3 44 45 01 28
Location
Zoom in and pan across the map to get a more detailed view of the location.